Showcasing Local Artists
A distinguishing feature of Kinects apartments, as well as our sister residential communities, is our focus on elevating our community spaces with art. We work with local artists to create and install gallery-worthy works throughout our properties for all to enjoy. From interactive elements to pieces that draw you in for a moment of reflection, the art program is an amenity all its own.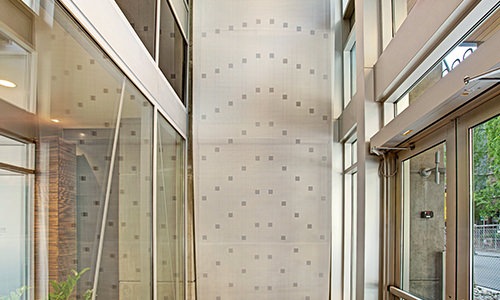 Flow
Flow is a sound sculpture inside the entry vestibule at Kinects. The sound content is an algorithmic mix of water recordings sourced from rivers, streams and waterfalls from around the world. Both the arrangement of the speakers and the audio create a continuous sensation of movement, creating a calming transition between indoors and out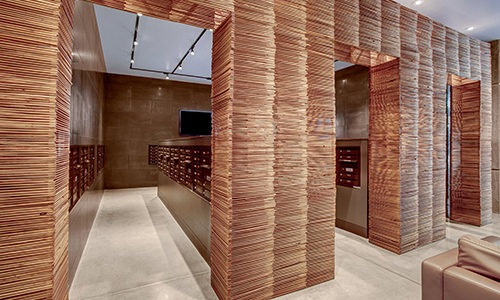 Cedar Passage
Thousands of strips were cut from the cedar shingles that once graced a turn-of-the-century Seattle Bungalow. These strips now form a filtering screen wall for the gallery at Kinects. As one passes through this screen wall sculpture, one seems to pass back into time.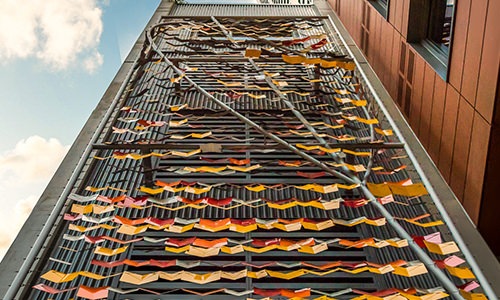 Pseudotsuga
Before Seattle became a thriving urban metropolis, there was an endless forest of predominantly Douglas Fir. The 11' X 30' sculptural form gracing the Northeast entrance to Kinects offers a memory of that ancient forest. As one passes beneath tensioned lines of colorful reflectors one catches a glimpse of a giant elliptical form, an abstracted Pseudotsuga cone.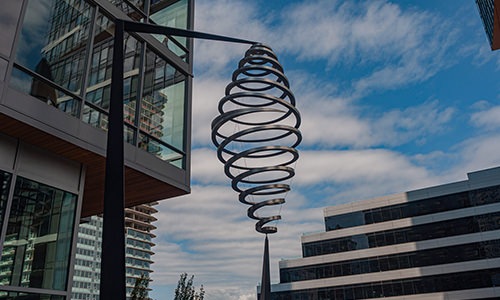 Synapse
Located on the 6th floor amenity terrace, Synapse is a 22' kinetic sculpture designed to evoke a sense of mystery and serenity as two mirror-image spirals spin as one – appearing to merge – or connect. Kinects aims to create opportunity for people to unite and Synapse aspires to facilitate that by being a focal point, a gathering place much like a campfire.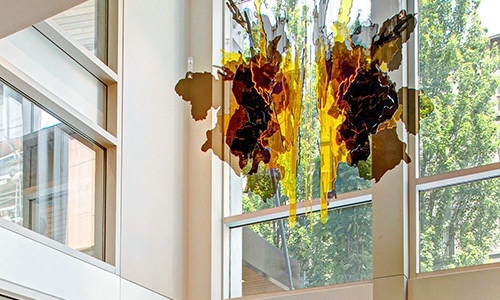 Rorschach Chandelier
This five-foot by eight-foot sculptural chandelier's multiple planes of colorful Rorschach shapes appear in a myriad of three dimensional forms.