Stellar Rooftop Amenities
The 41st floor connects the indoor and outdoor experience with floor-to-ceiling windows, three decks and breathtaking panoramic views of the Seattle skyline and surrounding mountains. This top-floor retreat is designed as an extension of your living space.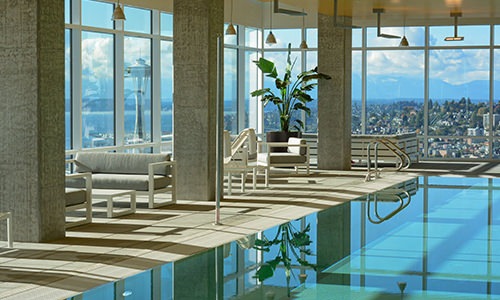 The Pool
A private, indoor swimming pool is an uncommon luxury. Yours is the only glass-enclosed, heated rooftop pool in the downtown Seattle area. Whether you swim laps, take a seat on the underwater bench, or enjoy poolside – the ripple of the water is its own form of escape.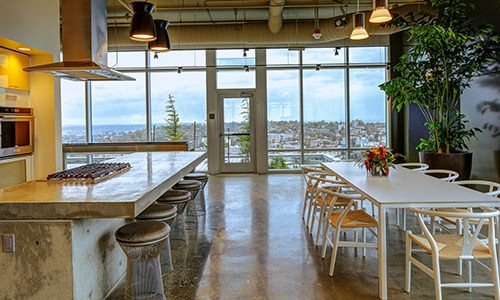 The Peak Lounge
The Peak Lounge offers social zones as well as quiet places to tuck away - all with iconic Seattle views. Relax with friends in generous seating areas, impress them with your knife skills at the chef-inspired demonstration kitchen, or challenge them at the 22-foot long custom shuffleboard table. For more solitary pursuits, escape to the fire cave with its sunken seating area or settle in the corner room called the Perch.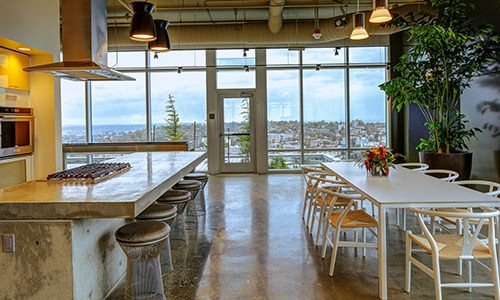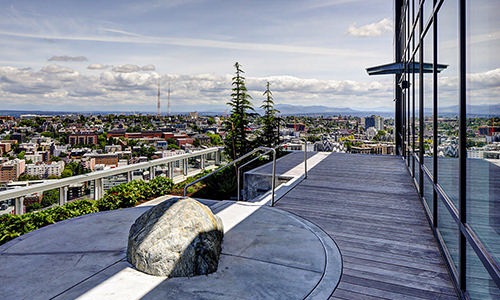 Rooftop
Connected to the great outdoors, three decks bring in views to the north, east and west. Two of the decks have sentinel stones inlaid with bronze markers that point the way to Mount Rainier and Mount Baker, inspired by survey markers on mountain tops. The largest of the three decks is an infinity-edge terrace where you can read a book under a tall Subalpine Fir tree, four-hundred feet in the sky.